Madarasi Pálinka Taste House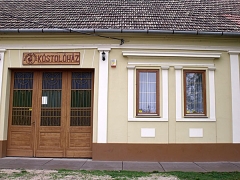 Pálinka tasting combined with a visit to the Madaras Pálinkaház!
The tasting 5 different flavors (variety 2 cl) is made.
The event will take 2-3 hours.
At the end of shopping options for our guests.
Price: By appointment.
The price includes the consumption of mineral water and cake.
The Madarasi Pálinka Taste House events (birthdays, class reunions, etc..) Conduct also available. (Up to 30 people)
Contact phone: +36 (30) 383-3662. www.madarasipalinka.hu
The Taste House can be viewed in the gallery.