The Madaras Pálinka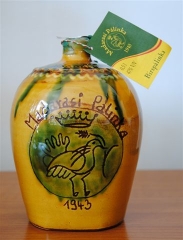 In Madaras and its surroundings people belong to an agricultural community and so it has always been a part of their everyday custom to drink Pálinka. Building on this, Mr. Peter Balla built his pálinka distillery. After having to give it up for public ownership it became an agricultural co-operative. Later it became a property of "ÁFÉSZ" during which time they produced 40-50 thousand liter of pálinka per year. From 1960 until 1989 my father, Marton Lakatos was the director of the distillery.
In 1989 he bought the distillery and continued to run it as a private distillery. From 1991 onwards, as a member of the family, I began to work there as a full-time assistant, and in 1997 it was passed into my ownership. In 1998 I continued to work as a private entrepreneur.
The Lakatos family has honored the traditional way of distilling pálinka for the last 50 years, by using the twofold distillation technique to make their home distilled pálinka.
In 2008, building on our well established professional expertise as well as on the growing demand for our pálinka, we have decided to expand our business to include commercial retail sales.